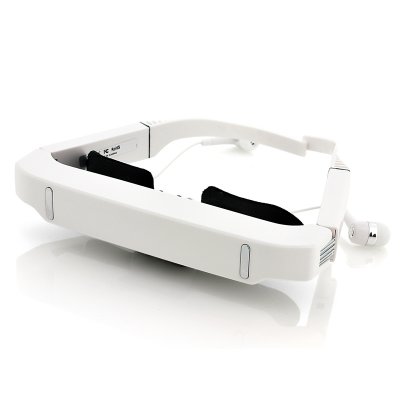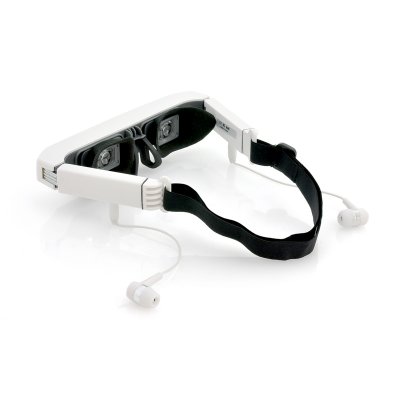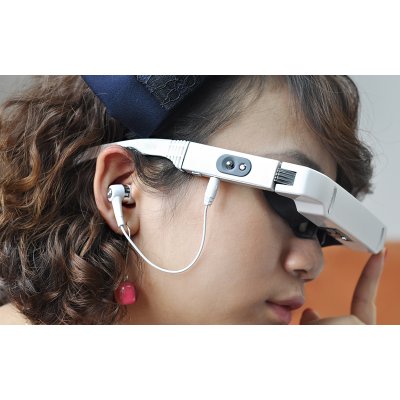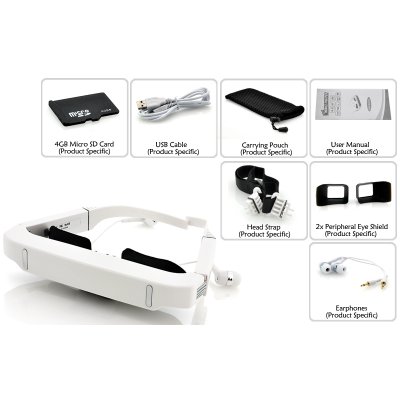 Mobile Theater Video Glasses is a must for watching your media in a convenient way as it has an 84 Inch Virtual Screen Size and also has a Rechargeable battery.
Wear these Mobile Theater Video Glasses exactly the same way you would wear regular glasses; however you get to watch movies instead therefore making them ideal for travelling. Simulating an 84 inch virtual screen size, these media glasses are compact and light and have all the required accessories including a pouch to put it all. To make these video glasses more comfortable to wear, they were designed with an interpupillary distance (IPD) of 58 to 66mm, which is the distance between the centers of the pupils in each eye. 
These glasses are practical for anyone traveling or commuting to work as the built-in battery can last approximately 3.5 hours and if it needs recharging then it can be done easily via the accompanying USB cable. Save all your files onto a micro SD card and insert it into these home theater glasses via the built-in micro SD port and then you can watch all your movies directly, plus there is a free 4GB micro SD card included in this package. 
These 
Mobile Theater Video Glasses are
 in stock and can be dispatched within one working day with a 12 month warranty. Brought to you by the leaders in wholesale electronics and home theaters, Coolgadgetonline. 
At a Glance…
General
Interpupillary Distance: 58 to 66mm
Feature: Rotate, Zoom, Slides, Auto-Browse
Color Depth: 24 Bit
Audio: Stereo
Distortion: 0.03%
Operating Temperature:-5 to 40 Degrees Celsius
Storage Temperature: -10 to 50 Degree Celsius
Power Source: Built-in Battery or Via USB
Battery Size: 750mAh
Usage Time: 3.5 Hours
USB Input: 5.0V/>500mA

Display
Simulated Display Size: 84 Inches
Display resolution: 432x240 (Equivalent to LCD 864x480)
Aspect Ratio: 16:9
Viewing Angle: 26 Degrees Diagonal

Memory
Micro SD Card up to 32GB (Includes free 4GB Micro SD Card)

Media Formats:

Ports
2x 3.5mm Audio Out Port
Micro USB Port
Micro SD Card Slot
DC IN

Package Contents
Video Glasses
2x Peripheral Eye Shield (Product Specific)
USB Cable (Product Specific)
Earphones (Product Specific)
Carrying Pouch (Product Specific)
User Manual (Product Specific)
4GB Micro SD Card (Product Specific)
Head Strap (Product Specific)